Best Fake Phone Number App For Texting Android And iPhone 2022
You know about a burner phone when you are a big fan of breaking bad and other shows. Day by day, contacting unknown persons is getting riskier. So, many people are always looking for a fake phone number app for texting. However, anyone can search for a second phone number if they want to. You don't need to purchase another second wireless phone to get a burner phone.
There are a lot of other apps that can help you get a fake phone number. Most of the time, people are tired of trying out several apps to create fake contact. So, they conclude the whole thing is also fake. That's not true as you just cannot find the right apps on Google Playstore. Yes, there are a lot of Android apps, and picking the right one is always tough. Today, we are listing some of the best fake phone number apps for texting.
Why Use A Fake Phone Number App?
Online dating is prevalent, and it carries a lot of risk on the way. A lot of women are trying to find a suitable date online. But there are a lot of chances and dangers in exposing their number. The fake number of apps can always provide an excellent protective layer over their privacy.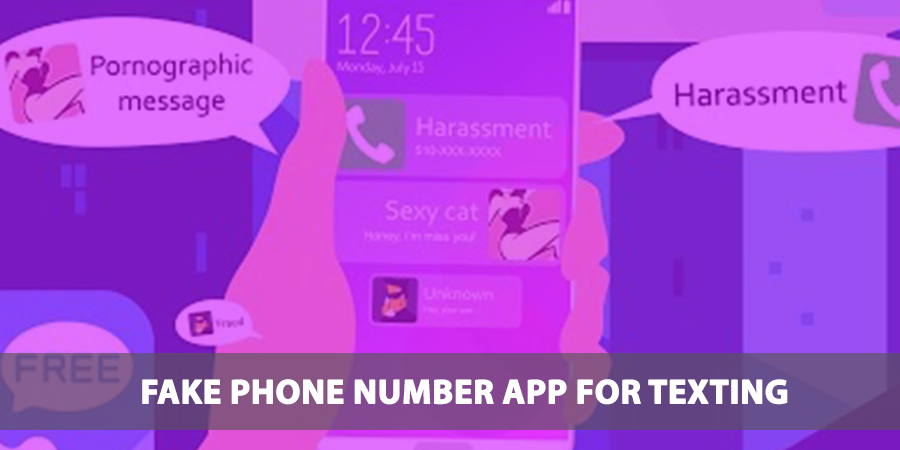 Also, when you are always traveling around in different areas, you might want to receive a local number. These fake number apps can still give you an upper without buying a wireless device. On the other hand, when people are always monitoring your activities, getting another number is helpful.
Another use for this App is for doing online business. If you are selling something online, exposing your phone number can be annoying. A lot of potential customers will still call you even after selling the product. From a different aspect, fake numbers of apps are useful in many ways.
6 Fake Phone Number App For Texting Reviews 2021
There are a lot of fake phone number apps in the Google Playstore that are not working correctly. It's because most of them are fake and waste a lot of your megabyte and time. Here we are reviewing 6 of the best and reliable fake phone number apps for Android devices.
1. Hushed – Second Phone Number – Calling and Texting
Hushed is a famous private phone number app in the world. Easily send text messages and phone calls, and you don't need to worry about your privacy. This fake phone number app lets you use multiple phone numbers and manage them with ease. With this App, you can keep your real phone number separate and safe from others. Hushed is best for maintaining millions of private numbers safe from potential threats.
Also, Hushed is no local service provider. The fake phone number app covers over 50 countries. So, if you are traveling around and looking for a good app that provides a second phone number service for the local area – this App is the best. Thanks to the simplicity of this App, you can manage multiple numbers on multiple devices. Even the plans from Hushed are flexible and exciting for the users.
Why do you use this App?
Users can find flexible long and short term plans for local, toll-free numbers. Also, there are other prepaid and pay-as-you-go plans that you will like.
You can use as many numbers you need using the Hushed App. The App is straightforward to use, and users don't need another mobile device.
Packed with great features such as auto-reply messages, call forwarding, and many more.
2. Text Free: Free Text Plus Call
Looking for a reliable fake phone number app in the US? Well, we have a great free second number app right here. Yes, you don't have to spend a penny on purchasing packages or offers from the second phone app. This secure App lets you handle unlimited messages free of charge. Of course, you will get a real US number and use it for various purposes. When you are thinking about online dating, or craigslist, this is a free way to do so.
Also Read: 9 Best Makeup Apps For iPhone and Android In 2021
That's not the end of this as the App to app calling is completely free. So, this is a bonus feature from the Freetext App. One annoying thing about the app is the ads. But because this is a free app, you won't mind the ads. Not to mention, the UI of this App is excellent and well-thought-out. The users can use Freetext easily and turn any device into another second device.
Why do you use this App?
Well, thought UI design and the App is very easy to use.
Make unlimited text and MMS with free text with maximum security.
No package charge from the Freetext App and any app to app call is entirely free.
3. TextMe Up Free Calling & Texts
TextMe is another reliable second phone app on our list. Use the second phone app without any plans or packages around the US and Canada. Users can change and use multiple numbers on their devices without any risk involved. In the beginning, users had a problem with the UI of this App, but the recent update was promising. Yes, this second phone app offers you unlimited free call texting and media sharings free of charge.
The most annoying thing about every Android app is the update. You get an update this week, and there's another one next week. Yes, this is a free app, and you are not getting the best service. Anyway, you still have the upper hand in using reliable and free texting ability. Hide your real number and use the second US or Canadian number for your tasks such as online dating or other things.
More Read: (Update) 9 Best App To Learn Arabic Android And iPhone 2021
Why do you use this App?
You can quickly get a free second phone app in the US and Canada local areas
The UI is smooth and very easy to use. Also, the App offers low-cost international calls
Share unlimited text, and other media content free of charge in US or Canadian local areas
4. Pulse SMS (Phone/Tablet/Web)
Pulse SMS is very popular among Android users as a supplementary SMS app. Because of the beautiful design and features – this one is the highest-rated messaging App in Playstore. But one thing people don't know about the App is that this App can be used as a fake phone number app. Yes, the other side will never get to know the unencrypted texts from you.
Not just that, you can use Pulse SMS on various devices, including windows devices. So, you can use the App even on your windows device and stay connected without showing your own number. Mainly, Pulse SMS comes with a lot of customization options, and still, the App is fast and smooth. Sync your other social media platforms with this App and use every site with just one App. Saves you a lot of time and App storage thanks to Pulse SMS.
Why do you use this App?
Can run the App on multiple devices running of different OS such as windows, Mac
Users can instantly sync with more than 10 social media platforms and share texts or media content. Also, users can preview web pages or YouTube videos.
A lot of text messaging customization options and the App is still very fast. Keep your privacy safe with the App.
5. Line2 – Second Phone Number
Having a second phone number is crucial when you are a professional businessman, freelancer, or entrepreneur. And finding an excellent app that acts as your fake phone number is also essential. Well, Line2 is an underrated fake phone number app, as there are more apps with a similar name. But the features this second number App offers for professionals is wonderful in many ways.
Unlike the previous 3 apps on this list, this App is not free of charge. But when you are working on a professional level, security is your top priority. The layout is simple and very easy to handle all professional works. Not to mention, the App works perfectly on android, tablets, and even on Windows devices. So, you can always stay connected to your workplace whenever you want.
Why do you use this App?
Choose a safe and reliable separate number within the US and Canada regions and get the features at just $9.99 subscription. Best second phone number app for professionals.
It can be used in multiple Operating systems and devices. Contacting other Line2 users is free of charge.
Add 2 separate messaging lines and one phone line, and a user can choose his number.
6. 2ndLine – Second Phone Number
2ndLine is a similar second phone number app like the Line2 App. Yes, this App is also meant for mobile business professionals. Unlike Line2, this App is completely free for the US and Canadian professionals. Probably, people who are looking for a free alternative, this one is a suitable pick for installation. Mainly, the UI of the App is fast, smooth, and very easy to handle. The only con from the 2ndLine App is the ads, and that's ok. You are getting a free second phone app, and the ads should not bother you.
Similar Read: Top 12 Best Room Temperature Apps For Android And iOS 2021
Choose your phone number and get access to unlimited texting and calling. That's not all, use the App on your android or tablet device without any lag or call drop. Another great feature of the App is the caller ID. Means, you can know who is calling you before picking it up. Sending media contents or any other important files is no big deal. Overall, this is a smooth and free alternative for people who don't want to share their numbers.
Why do you use this App?
The international calls are relatively cheaper with 2ndLine
Get access to unlimited free texts and calls in the US and Canada region
Choose your local number, and you don't have to make any monthly subscriptions
Final Verdict
Many people think that second phone apps are just fraud and do you no good. Well, that is not true at the least as they don't find reliable apps. For an online business, dating, or other professional jobs – keeping one's phone number secret is essential. Otherwise, things can get annoying sometimes.
No, fake phone apps are not used for illegal activities. Instead, it is to keep privacy safe. Today, we reviewed 6 of the most reliable fake phone apps on Google Playstore and hope that you will find the right one for you.