6 Best Printer Apps For Android Devices & iPhone 2023
Do you feel disturbed while printing with your printer? Do you want to get rid of this monotony? Then we have a pretty much great solution for you. You can get an appropriate and time-saving solution here. We will show you some printer apps for android tablets. These apps will help you to print easily.
Printer apps for android devices are an excellent desire for users. By using it, you can print, copy, scan, and share the files anytime from anywhere. These apps will give you a fantastic feeling of relaxation. We will provide you with descriptions of some printer apps in this review. Here you will find the best printer apps for android tablets.
6 Best Printer Apps for Android Devices Reviews 2021
We have a fantastic list of the best printer apps for android tablets. Besides, you will find these apps and features beneficial to you. These apps will impress you with their qualities. All you need to do is check this review and pick up the best one to use. I hope you will be able to choose the suitable one to print.
1.HP Smart
If you have an HP printer, then this app should be your first choice. It gives you an easy way to print anything. You can get numerous incredible features of it. This useful Android app comes with easy setup options. This app will do half of the work. So it's just a click away to print anything from anywhere.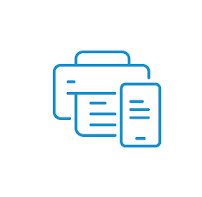 It's a very smooth way to print something with this app. You don't need to take additional worries with your printer. It is free from any kind of connectivity issue. You can scan, print, and share any kind of files or pictures with this app. HP Smart android app has fantastic features for you. You don't have to do extra hard work to print something.
HP Smart Features:
It is easy to scan, print, and share documents with this app. It ensures secured connectivity to friends and colleagues or the cloud.
Printing and editing with this app are pretty much easier. Users can make JPEG/PDF files and store the cloud.
To order supplies and get cloud storage accounts. Getting support from the app.
2.Epson iPrint
Printing something is more comfortable and convenient with Epson iPrint. You can print or scan directly from an Android device. There are many types of files available, and you can print all of them. Such as MS Word file, PDF document, Google Drive, and so on. You need to connect the app with Epson printers. This printer app will help you to get printing quickly. It is the one and only solution for all Epson printers.
Also Read: 14 Best Music Making Apps For Android Free & iOS in 2021
Epson iPrint is a useful app to print anytime from anywhere in the world. Here are various options available for you. It's easy to write something using the printing app. You will have to capture a document or file with a device camera. After completing the initial steps for printing, you need to scan that and print it. You can save, copy and share your file through email.
Epson Features:
Printing standard quality pictures, and it provides automatic backlight. It also has color cast correction and has different print options.
Has the option for choosing and printing multiple images. It prints emails and stores the files.
It prints documents both with and without borders. It can optimize printing quality and has a setup to connect.
3. Samsung Mobile Print
Nowadays it's so easy to print, scan and send any file from your Android tablet or phone. You can easily print and share it with this printer app. You can connect it with any Samsung printer and print the chosen file. You can send the saved file without any wired connection. There are various options of format to save the content online and shared with others.
You will be able to save the content on your device or online using this app. So it's not a tension to share the scanned documents. This app has fantastic printing features to impress you. It supports various network devices. Moreover, it can search for those devices automatically. Various types of editing options are available here for users. You can share the file after scanning it.
Samsung Features:
It scans supported network devices automatically. It has options to choose multiple pictures and to edit in different ways.
It helps numerous images with various sizes on a page. It allows scanning from ADF and can save as different formats.
It supports all Samsung printers and provides connectivity options. It includes privacy settings and security features to the users.
4.Brother iPrint & Scan
This app is one of the most useful printer apps for android devices. It is a free application that has various features. It's so convenient to print from an Android device using this app. You need to use a wireless network to connect with the Brother printer. There are various printing options available for the users.
More Read: Best Fake Phone Number App For Texting Android And iPhone 2021
It's an easy and comfortable way to use this printing app on your Android tablets. You need to follow some simple steps to print. You can print your documents, photos etc. You will be able to print web pages and Gmail. Some cloud services allow you to print documents. Moreover, you can scan directly and save the scanned documents to your device. Not just that, it doesn't require any computer or driver.
Brother Features:
It consists of an easy menu to use. Users need to follow some easy steps to print with the app.
It directly scans an Android device and saves those to the device. Users can send the files via email from their device.
It has a remote print function to print from any kind of place. It doesn't require any driver to maintain the connectivity.
Printing is so convenient and comfortable with the PrinterShare app. This app will provide you with great features. Some features are free, and some are premium. You can print and share from your Android device to any printer. Users can write various types of files. Such as emails, documents, web pages, etc. It provides various printing options to the users.
This app has options to connect with the printers that are available nearby. It's a fantastic way to print something easily. The free version of this app provides some features. There are restrictions to the connectivity with the free version. You also can print with google cloud printing system. With the remote mode, you can print around twenty pages. The Premium version is restriction-free to the nearby connectivity.
PrinterShare Features:
It can print JPG, GIF, PNG, google docs, and PDF files. Besides, it also prints various attachments and HTML. It can print emails and other digital content from different sources.
It has a free version and also premium features. The free version has connectivity restrictions. Besides, the premium version requires unlimited nearby connectivity.
Premium features include endless remote printing. It can print about twenty pages with the free version.
6.PrintAway
PrintAway is a fantastic printer app for Android phones or tablets. You can print documents from your device using this app to any printer. It also saves your time and gives service quickly. This app has an option to manage the printing process.  You can print with this app from anywhere in various formats. It supports cloud print services for printing easily. Printing, scanning, and sharing the documents are comfortable with this app.
Every feature of this app is useful for the users. You don't need any specific printer to use this printing app. Moreover, you can print and scan from your phone and connect to any printer. You will get fantastic services while using this app. Whenever you need to print from any printer, you can use this printer app. Not only writing, but you also can share scanned files via email.
PrintAway Features:
Secure connectivity to any printer and more convenient to use advanced options. Users can print SMS, contacts, mail, and so on.
Users can print files from dropbox and google drive etc. This app allows users to print drawings too.
Users can print from the clipboard and can print work management. It also has sharing options with others.
How To Print From An Android Phone In 2021
Printing anything from your Android phone is not a nightmare now. You can simply get the app from your printer. You can get any open-source app that supports all wifi-enabled printers. Then you need to select the image or document for printing.
Similar Read: Top 12 Best Room Temperature Apps For Android And iOS 2021
Later on, you need to click on the button at the right corner that looks like a tree-dot. Then click on "Print". This step will help to upload the file to the Cloud Print App. When you give the final print command, you will get the printed one. Therefore, you can print from your Android phone without any issue.
Conclusion
In the review above, we tried to give you a clear concept about the best printer apps for android tablets. If you are trying to find a great way to print easily from your Android device, this review will help you a lot. You need to check the details about the apps. Many users are confused to choose the suitable and comfortable printing apps. Sometimes it seems so monotonous to print something with the older system.
We have given a list of the best printer apps for android tablets. Printer apps for android devices contribute a lot to get an easy way to print. You can easily print from your phone using the apps. It will also see your time. Besides, you can easily print, copy, scan, and share your files with other devices or upload them online. I hope this app guide will be useful for you. So don't forget to check our reviews above.