6 Best Apps To Learn Vietnamese For Android And iPhone In 2022
There are several reasons why we might want to learn another language. It can be because we're traveling, about studying or working abroad, going for a tour, conversing internationally, or just for the fun of it. However, the case, learning a new language can be a very difficult task if you're not well acquainted with it or have no one to teach you. In addition, learning a language like Vietnamese can throw you off the balance if you're just starting in the language.
You can learn Vietnamese on your smartphone using some supported Android applications. This is because, with the recent trends nowadays, it's much easier to access many things online. Also, this happens to be a more effective means of learning in comparison to learning by using a physical book.
6 Best Apps To Learn Vietnamese For Android And iPhone
So said, in this article, we have covered the few apps you can use to learn Vietnamese for Android and iPhone in 2022. We have also outlined their features and limitations for you to glance through and consider. Thus, after checking these apps, you can boldly choose whichever you wish to learn Vietnamese. That said, let's consider the following learning apps.
1. Duolingo: language learning app
Duolingo is a natively-focused language learning app that has a user base of over 110 million users. It provides you with features to listen, speak, play games, participate in quizzes, and even use the translation. Due to the different learning methods, most users have reported fast learning, as these user bases are vast and mixed. The Duolingo app is also easy to understand and use.
Also, using the app, you can see your progress in different streaks. In addition, each time you make a mistake, you lose a life—in the Duolingo app.
Features of Duolingo:
It implements an AI-based advanced teaching technique for the app learners. Thus, enabling you to learn and retain things much longer.
It provides over 35+ languages for users globally. So, you can consider using this app if you want to learn foreign languages, then Duolingo is for you.
Quizzes come in the form of games to enhance the user's language learning skills.
Also, it enables you to practice writing, to listen, and reading within the app.
2. Bravolang: app to learn Vietnamese
The next app you can use to learn Vietnamese is Bravolang. Bravolang offers you Vietnamese words and phrases in the language learning sessions. This will aid you in memorizing the phrases more efficiently. Also, a Pair Work feature enables you to learn Vietnamese directly from native Vietnamese speakers. Also, it provides you with amazing tricks which you can use to learn, in addition to its great punctuation.
Also Read: Best Learning Spanish Apps for Android and iPhone Like a Boss 2022
Furthermore, if you're an iPhone user, you can also go for the Bravolang learning app. Bravolang is an ideal app for learning Vietnamese, as it allows you to practice the language with native Vietnamese. Also, using the Bravolang app, you can learn and memorize Vietnamese phrases and words. In addition, using Pair Work, you can learn the language, and it will have a great effect on your language learning, long-term.
Features of Bravolang:
It's one of the ideal apps to learn Vietnamese, as it offers Vietnamese phrases and words that will aid you to listen, speak, and practice Vietnamese effectively.
You can also access the offline and online sessions, which will aid you wherever you are.
You can also use the Pair Work feature to converse directly with Vietnamese trainers. Thus, enhancing your language speaking skills.
3. Simply Learn the Vietnamese Language
Simply Learn is one of the ideal Vietnamese learning apps. Within the app is a vast array of phrases and words you can learn from. Also, the words are categorized into groups which are methodically tested via the spaced repetition system in them. Furthermore, in contrast to most other language learning apps, the app is free.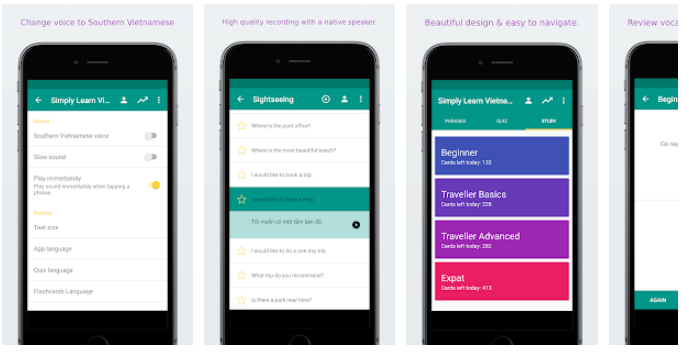 However, the only way the app is funded is via ads included within the app.
Features of Simply Learn:
It's free of charge.
Several useful contents for users to leverage.
The vocabs are categorized into a set of flashcards.
4. Bilingua: Language Exchange app
The Bilingau app implements a novel way of learning Vietnamese. Within the app, there is a Language exchange feature that matches learners with Native speakers. Thus, they can converse directly with one another, and the learner gets to learn Vietnamese faster. So, if you wish to learn and practice Vietnamese faster and more effectively, you can as well use the Bilingua app.
Also, Bilingua implements various learning techniques by enabling quizzes, learning tasks, and conversations. So, if you want to learn Vietnamese and enhance your prowess with the language, then Bilingua provides you with a great platform for it. Furthermore, Bilingua implements a feature other language learning apps don't. This feature allows you to interact directly with other users organically.
In addition, the app provides you with a language coaching bot called Shiro. Shiro guides you through your learning process and assists in games and other activities to increase your learning.
Features of Bilingua:
Enables you to converse directly with native speakers. So, in practice, you can get better much faster and improve your language learning skills.
Rewards you with points for completing tasks and getting quizzes right. So, you can contest with your playing partner to get rewards.
As earlier stated, Bilingua provides you with access to fun and exciting learning techniques. Also, in the vocabulary list, you can practice your vocabulary skills and learn better.
5. Collins Vietnamese: language learning app
One other great app for learning Vietnamese is Collins Vietnamese. It is one of the leading smartphone apps for learning Vietnamese. One great perk about this is that it's limited to teaching you Vietnamese, but there is a wide array of languages you can learn from. So, you can learn every day using the app or whenever you can.
It also works both ways, Vietnamese-to-English or English-to-Vietnamese. Also, using this app, you can use high-performance search engines which can help you discover suitable words. In addition, Collins Vietnamese contains in-app audios from native tutors in the app. Thus, by listening to the audio, you'd be able to improve your pronunciation.
More Read: Best Apps For Learning Japanese For Android And iPhone [Update 2022]
You can improve your vocabulary as well with practice.
Features of Collins Vietnamese:
In-app search engines include camera search, voice search, etc.
It enables you to share words' meanings through other apps on your smartphone.
It also comes with a search autocomplete feature to seek words much easier.
6. L- Lingo: Vietnamese Language Learning App
The last app on our list today is the L- Lingo: Vietnamese Language Learning App. The L-Lingo app contains a large array of images and audio content for you to learn the languages. It also contains an in-app dictionary, which will help in improving your Vietnamese speaking skills.
Also, L-Lingo provides thousands of Vietnamese words and phrases to help in your speaking effectiveness. In addition, the L-Lingo Vietnamese contains grammatical notes to help correct your flawed sentences. Finally, the in-app audio provided gives you access to learn the proper pronunciation of words.
You can also participate in the games and quizzes, which are another means of enhancing your learning progress.
Features of L- Lingo:
The app has native speakers' pronunciation.
Contains fun quizzes.
The app also contains grammar notes for every lesson.
Frequently Asked Questions
Can I install these apps on my phone for free?
Yes, you can download and install the app above to access the free Vietnamese language training session. Although some of them might consist of some in-app purchases, you can still download and install the apps for free on your mobile phone.
Are these apps useful for learning Vietnamese?
Yes, you can use mobile apps to learn the Vietnamese language. In addition, learning with smartphones has proven to be more effective than the traditional means of learning by books.
Which of these apps is best for learning Vietnamese?
Among the list of apps you can and should use to learn Vietnamese, we recommend that you use the Duolingo app. With all the app's advanced features, you can learn Vietnamese much easier.
Conclusion
As we have already seen, it's more effective to learn languages using a smartphone than using a book. Also, as a language like Vietnamese is somewhat difficult to learn, you'd need some advanced and broad means of learning the language. That said, these 6 best apps to learn Vietnamese for Android and iPhones in 2022 can provide you with all you need to advance in 2022.