Best Barcode Apps For Android Reviews (Our Top 10 Picks)
Are you looking for some quality barcode apps for android? This is where you will get the perfect solution about best barcode scanner apps for android in the play store. Here, we have insightful reviews of the barcode scanner apps to make your selection easier.
Not one, or two but we have brought 10 of the barcode scanner for android phone specifically! We know it can be challenging to find a scanner that works without lagging, with flawless camera focus, and delivers clear visibility. Thinking about your concerns, we have chosen the topmost barcode scanner apps.  
10 Barcode Apps for Android Reviews 2021
We have tried to be more precise and specific about the main features of each scanner. So, it will be easy for you to understand and read. 
1. QR & Barcode Scanner
One thing we can assure you about this app that you'll never complain about its speed. This works as fast as possible, scans QR codes immediately. This app can also scan coupons to help you save a few bucks on a discount. If the place is dark, then you can turn on the flashlight and scan immediately.
Also Read: Top 12 Best Countdown App For Android & iPhone Of 2021
This scanner has autofocus mode and can scan from enough distance if you are standing far away. The decoding of the QR code is instantaneous so that you don't have to keep waiting at the super shop for online price comparison. If you ask for a perfect one, this is one of the best barcode scanner apps for android.
Why Do you need this app? 
Fastest action and result

Can zoom into distant QRs

Can scan pictures and coupon codes.
2. QR & Barcode Reader
This app is the definition of extra. You can scan any barcode and QR code from an image directly, but this app will not intrude into your gallery. You can share the scanned link on your other device linked with this app. It can scan from a wide distance if you zoom it, and it will automatically focus. Don't worry if there isn't sufficient lighting, you can turn on the lights of the scanner.
With so many features, this scanner does not ask permission to access every other app of your device. Your privacy and data will be secured and safe with this QR & Barcode Reader.
Why Do you need this app? 
Enjoy Secured use and safe scanning with this app

Can scan barcodes from pictures too

You can customize your search option 
3. Barcode Scanner Pro
In this app, you can not only scan and decode barcodes and QR codes, but also can create your own QR code. After this, you can share your link with your friends through social media or mobile SMS.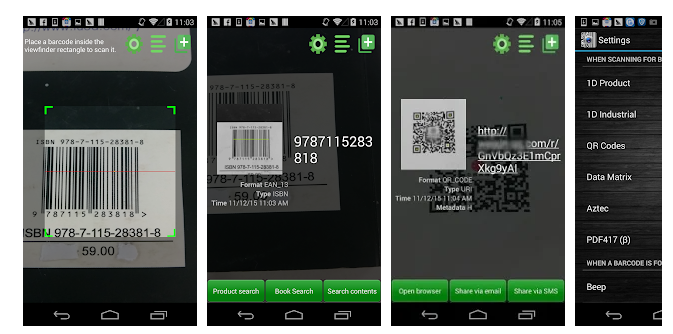 This app responds fast at decoding and takes you directly to the scanned website. You can record and track your history as well with Barcode scanner pro.  
Why Do you need this app? 
Create your own QR code

Gives you quick and correct results

Personalized QR codes Can be shared via social media 
4. QR code reader
This app also gives you the privilege to create your own QR code for text, web links, map directions, etc. And, those can be shared with anyone. It saves all of your previous decoding histories for your convenience. It does not require or asks permission to access your internet because it works offline.
To mention, it is a strong scanner, even if it works offline. You can view in-depth details about a product or good from the barcode scanner.
Also Read: 10 Best Free Anime Apps For Online Streaming [Android & iOS]
Why Do you need this app? 
It is swift in its work

Own QR code can be generated with this app

Provides detailed descriptions upon product code scanning
5. Barcode Scanner
No matter how big or strong the barcode is, this Barcode Scanner from the play store takes no time to decode that for you. It will scan unlimited times without any lagging. It ensures safe scanning and protects your device from any illegal or virus scanning.
If the barcode consists of some link or information, then the scanner will directly take you to that without you conducting a second step. Here also, you can create your customized barcode and QR code. 
Why Do you need this app? 
Quick and secure action

Customized QR codes can be created

Can scan through any URL, email, or even contact.
6. FREE QR Scanner: QR Scanner & Reader Pro
The updated version of FREE QR Scanner takes the littlest space in your device. Even if you are using a scanner for the first time, you can ace it with this app. It is so simple to learn and gives faster action. It can zoom and still focus on distant QR or barcodes at ease.
This app saves your history of scanned links for your use later. Also, you don't need to be connected to Wifi to scan with this. It does offline work!
Why Do you need this app? 
Works offline 

Does not takes much space in the device

Saves your history of scanned links or sites
7. QRbot: QR & barcode reader
Scan faster and easier with QRbot. This app adjusts with the size of your screen and fits the QR and barcode perfectly. It also saves the scanned links in your history site so that late you can browse through that again without having to scan the QR code again.
You are able to create your own QR code and share it on  Facebook, Twitter and other social media and text messages to your friends. It performs all its actions securely and promotes safe search.
Also Read: Top 10 Best Microphone App For Android And iPhone 2021
Why Do you need this app? 
The hassle-free app adjusts the code to your screen 

Allows safe searching and scanning

You can create your QR and barcode here
8. Barcode Scanner for Amazon
This is a simple app that is going to make your amazon purchase easier. You can instantly scan through the product QR and compare different prices with different websites. You can also differentiate among ratings and reviews with other products too. 
You can carry on with your Amazon online shopping and the product will be home-delivered to you after confirmation. You can also save your favorite items in your library if you want to re-purchase or buy later. 
Why Do you need this app? 
Make you Amazon shopping faster and quicker

Compare product prices, reviews, and ratings

Get easy access to products
9. Compare Prices On Amazon & eBay – Barcode Scanner
The previous one was for Amazon products, this one is added with eBay too. Make the best use of technology and shop smart. Scan products to compare prices and reviews of them through different sites and get the best deal. Get access to one million+ products and get your product for the cheapest.
You can save the best deals or upcoming discounts and get access to them without having to scan again. You can save both your time and money with this app.
Why Do you need this app? 
Compare among one million product fast

Get the best deals and discounts

Save your favorites to buy later or repurchase 
10. ShopSavvy – Barcode Scanner & Price Comparison
This is a multi-scanner app ShopSavvy, which has taken headlines of many renowned news portals of America. Just search the shop, scan the product, compare the prices, and buy the one you find at the cheapest. All your hard-earned money will be saved by this app. You'll get notified about the best prices, offers, and discounts of your favorite shop through this app.
Whether it is Amazon, Walmart, or Target, you can get your favorite products just at your doorstep after several price comparisons with ShopSavvy.  
Why Do you need this app? 
Best scanning app for shopping

Choose from hundreds of retailers

Save your money from the best deals. 
Why would you Use a Barcode Scanner App for your regular works?
You can use a barcode scanner app in an easiest way to scan and decode any QR codes. The Qr code might have some important information about the product, which can be only made visible through an app.  
Also Read: 4 Best iOS Emulator For Android & Windows Pc (100% Working)
How do barcode apps work?
Barcode apps use your back camera, focusing on the QR code. Then the processor scan it and decode the hidden information. Either they take you directly to the website or show the applied information related to the scanned product.
Some Important FAQ
Can you scan a QR Code with your phone and without an app?
As technology is improving, they are compacting everything. Nowadays, the iOs mobile is enforcing scanning QR codes without using an app. They have a special feature in their camera setting, from which you can directly scan QR codes. But in android, you need to use an app to scan QR code. 
Can I scan barcodes with my Android?
Yes, you can scan the barcode with your android simply just by downloading any of those recommended apps from our list. Those apps are simple to use and deliver faster results.  
Do Android phones have QR scanners?
Android phones are yet to come with this feature. In androids, you need to download and install barcode reader for androids to scan QR.
Final thought
Now that you've known the 10 best barcode reader for android, it's time to choose your favorite among them. One common thing about those apps are, they are simple, fast, and easy to operate. But each has a slightly different specification. Any of the barcode scanner for android is a must-have in this generation of QR codes.